J'ai fait cette carte pour le défi de la semaine chez CAS(E) this Sketch! Quand j'ai vu le modèle, je devais absolument utiliser le jeu Gorgeous Grunge!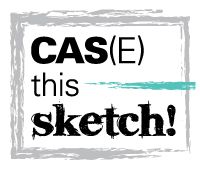 I'm entering this card on this week's challenge at CAS(E) this Sketch! When I saw the prompt, I thought it screamed Gorgeous Grunge! Don't you agree?
Je ne suis pas certaine si j'ai choisi les couleurs et qu'elles m'ont inspiré le thème de la chasse, ou si j'ai choisi le cerf et puis ensuite complété avec les couleurs. Ce que je sais, c'est que j'étais vraiment inspirée et que cette carte s'est pratiquement faite toute seule! Vous savez, parfois vous commencer à créer et puis tout fonctionne parfaitement? (Ça compense pour les séances de création un peu plus frustrantes!)

I'm not sure if I picked the colours next and they inspired me this hunting themed card or if I picked the deer stamp set and then chose the colours accordingly. In any case, I really really love the end result! You know sometimes, you sit down to make a card and everything just works out better then you imagined? (To compensate for all the times you sit down and just can't get a card you actually like!)

J'ai utilisé plusieurs techniques sur cette carte. J'ai joué avec le jeu Gorgeous Grunge et la méthode stamping off pour obtenir différents degrés de couleurs. J'ai ensuite jumelé l'étampe de cerf avec celle de bois avec la technique kissing, puis j'ai découper tout autour du cerf pour le mettre en relief. Finalement, j'ai utiliser le même poinçon deux fois pour le sentiment mais en coupant celui d'en-dessous en deux pour simuler un cadre.

I have used a couple of different techniques on that card. I played around with the Gorgeous Grunge set on the background by using the stamping off method, so that I would get the perfect shades. I have used the kissing technique for the deer with the hardwood background stamp to add more texture to it and I finished by fussy cutting the deer to prop it up. I have used the same punch twice for the sentiment but I have cut the bottom layer in the middle so that I could extend it and make it look like a frame.
Je suis bien contente de ma carte et je connais justement un papa amateur de chasse qui l'appréciera certainement : )

I am quite pleased with the result and I know just the wannabe hunter dad who will enjoy it :)